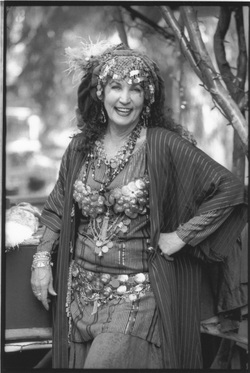 Jheri St. James:
*Career Dancer/Teacher: Traditional / Fusion Belly Dance
-- Beginning and Intermediate.
*Classes in Laguna Beach, California.
*Performs at local cultural diversity festivals,stage shows, and private parties.
*Two-trophy winner Belly Dancer of the Universe Competition.
*Performed for U.S. Senator Howard Metzenbaum (D Ohio)
*Danced in Seminyak, Bali and Istanbul, Turkey.
*Skilled finger cymbals, veils, canes, balance dances--swords, baskets & candelabra.
*Has created 35+ choreographies alone and with her troupe.
*Principal: JJ & the Habibis Laguna Beach Belly Dancers!

Also:

*Will teach your group at your location (birthday / bachelorette parties, showers) .
* Lecture/Demos: - History, props, belly dance as exercise, and social kickstarter.
* Schedule your seminar / workshop!
* Universal Life Church Minister offers belly dance (or other) theme weddings!
Self-Ceremony, Universal Life Church Ceremony, Jail House Ceremony or Belly Dance Ceremony: Egyptian Zeffa Procession, costumed belly dancers for shower / reception / hostess duties, catered Middle Eastern food,
including custom Persian Love Cake with live flowers. Live music available.
*All costs negotiable, reasonable, depending on location and complexity.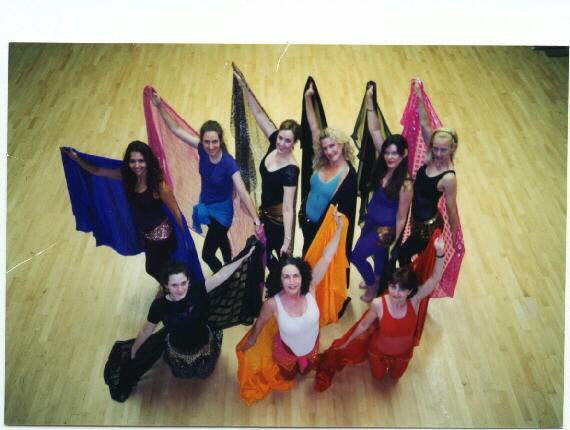 CLASS DATES:

Susi Q Community Center, 380 Third Street, Laguna Beach 92651 - Free Parking!
Register online: www.lagunabeachcity.net/rec dept. Create account, register.
$10/wk for series; one-time class drop-in $12.00.

BELLY DANCING

Tuesdays: Jan 16 - Feb 20 & Feb 27 - Mar 27 (6 wks ea.)

*** Beginning Class: 6:30-7:30 p.m. - Basic movements, cymbals, veil, Egyptian cane, costumes, choreography & random field trip (TBA).

*** Intermediate Class: 7:30 - 9:00 p.m. (Instructor Permission Req.) - The 8's, 17 shimmies, swords, circular veil, combinations, solo improv exercises. etc. Plus group repertoire & rehearsal for possible performances with JJ & the Habibis Laguna Beach Belly Dancers. (May go to 9:30 prior to show dates).

$10/wk for series; $12 one-time drop in.
Register: www.lagunabeachcity.net/recreation.
Drop in anytime!

NAMASTE INTRODUCTORY YOGA

Thursdays: Jan 11 - Feb 22 (6wks) & Mar 1 - Feb 29 (5wks)

Breathe, Stretch, Balance, Invert, Relax . . .
10:30-11:30 a.m.

Sign up at lagunabeachcity.net/recreation.
$10/wk for series - $12 one time drop-in
Seniors 60: half price!
Drop in anytime!

* * *

Ask about lunch hour, workplace yoga classes at your office...


J.J. & the Habibis
Laguna Beach Belly Dancers
Performances

"Shimmy from the Heart!"

Happy New Year of Belly Dancing - 2018!!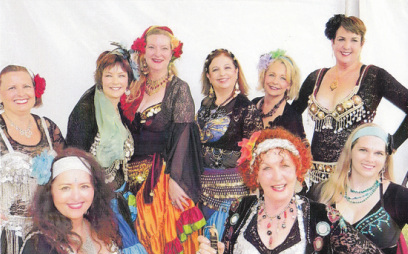 Sat, Jan 13 - Shimmy Showcase, 6:30-8:30 p.m. Viento & Agua Coffee House, 4007 E. 4th St., Long Beach

With many more to come!! Some Saturday event at Laguna Beach Library in January, Patriot's Day Parade March 2018, Orange County Fair, July 13-August 12, 2018, Stay tuned!!



Jheri St. James - (949) 494-5031
jheristjames@yahoo.com, JheriCo.net

---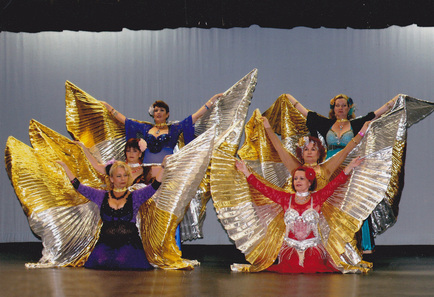 CURRICULUM VITAE

JHERI ST. JAMES
LA DANSE ORIENTALE: Belly Dancing Vitae

COOL AUDITION:
NBC's "America's Got Talent" – 120th out of 6,000 auditioners; we rejected them!

FESTIVALS:
Fete de la Musique, Laguna Beach - 2011-2017
SAMEDA Faire, San Diego - 2008-2015
Orange County Fair - 2011-2017
SOKA University International Festival - 2001 - 2017 - Award Winner
Irvine Global Village Festival - 2006 - 2017
Sawdust Art Festival, Laguna Beach - Bellydance Program Director 1982-2016
Badass Festival, Santa Maria - 2012-13
Laguna Beach Chamber of Commerce Renaissance Faires – 2008-09
Festival of Arts, Laguna Beach – 2000-2005
MidEastern Culture/Dance Assn's "Cairos Carnivale & Caravan" - 1983-2013
Bedouin Bazaar, San Diego - 1986-2015
Verizon Wireless Amphitheatre, Gwen Stefani Show - 2000
Renaissance Pleasure Faires, Various Calif. Locales - 1992-2015

SPEAKING:
Orange County Speaker's Registry, Friends of the Library, Performing Arts Center Guilds, Lady Lions, American Pen Women, Rotary Club, Laguna Beach Library 2017

TROUPES:
J.J. & The HABIBIS Laguna Beach Belly Dancers", Principal - 1985 - Present
Tribe Roman Morga Renaissance Gypsies - 1994-Present
The Mirage Orientale Dancers - "A Mirage..."

TEACHING:
Laguna Beach Parks & Recreation Dept. – Yoga Intro and Belly Dancing --1986-Present
Laguna Woods Receation Dept. - Belly Dancing - 2012-Present
Capistrano Adult Education – 2004-2009
Girls Gym - Yoga & Belly Dancing – 1992-1999
Emerald Bay Kids Camp, Laguna Beach - 1994-2000
Santa Ana High School & Other Private Students/Classes

BOARD:
California Choreographers Dance Festival – 2001-2003

AWARDS:
Belly Dancer of the Universe Competition, Divine Category - People's Choice & Second Place - 2004
MECDA For Advancement of Mid Eastern Dance - 1999

STAGE SHOWS:
Main Street Restaurant World Dance Showcase - 2017
American Fusion Belly Dance Showcases, Santa Fe Springs, Whittier - 2012-2017
Shimmy Showcases - 2005-2017
Tustin Tiller Days with Angelika Nemeth, 2012
Rosalind Russell Nepal Fundraiser - 2010
Middle Eastern Peace Benefit, Chapman Univ. - 2007
Raqs L.A.Tsunami Relief Benefit - 2005
"Megastars of the Universe," San Pedro – 2004
An Evening of Experimental M.E.Dance, Santa Monica - 2001
"Dance on the Wild Side" Benefit, Brea CA - 1999
Irvine Spectrum Opening: 10-Dancer Production – Principal - 1998
"Lagunatics," Laguna Playhouse, Laguna Beach CA - 1995

RESTAURANTS:
The Aegean, Laguna Beach - 2009
Pelican Isle, Huntington Beach - 2008
Sheraton Hotel, San Pedro, 2007
Mama's Lebanese Bakery, Laguna Beach, 2002, 2003
Tosh's, Huntington Beach - 2003
Casablanca Bistro, Newport Beach – 2000-2002 (Weekly)
Athena's Restaurant, Laguna Niguel CA - 2001

GALLERIES:
Highways, Santa Monica - 2001
Laguna Beach Art Museum - 2000, 2002
Khyber Pass Gallery, Laguna Beach CA - 2000
Treasures of the Nile Gallery, Laguna Beach CA – 1985-2000

BENEFITS:
BC Space Gallery, Laguna Beach, - 2003-2015
CAP Fundraiser, 2002
CHOCS Fundraiser, Laguna Beach, May 2002
American Cancer Society, Laguna Beach Chamber of Commerce, SchoolPower, Laguna Canyon Conservancy, Jewish Community Center

SENIOR EVENTS:
Feedback Foundation Picnics & Events, Anaheim CA (Many)
TLC Luncheon Club Events, Laguna Beach CA (Many)
Oasis Senior Center Events, Corona Del Mar CA (New Year's Eve at 4:00, London Time)
**Performed in all clubhouses at Leisure World (Laguna Woods).

REPERTOIRE:
Egyptian Cabaret/Folkloric, Turkish Cabaret/Rom, Fusion, Gypsy, Renaissance, American Belly Dance:
Props: Cymbals, Veils, Basket, Sword(s), Masks, Umbrella, Candelabra (Shamadan), Hookah Pipe

REFERENCES:
Angelika Nemeth, OCC Faculty, Costa Mesa CA
Kim Laudermilk, Principal, Tribe Roman Morga Gypsies

ASSOCIATIONS:
Member MECDA - Middle Eastern Culture/Dance Assn.
Member SAMEDA - San Diego Mid East Dance Assn.
Member CID, UNESCO International Dance Assn. (temporary hiatus)