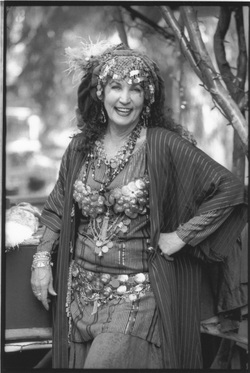 Jheri St. James:
*Career Dancer/Teacher: traditional / fusion belly dance styles
-- beginning and intermediate.
*Classes in Laguna Beach & Laguna Woods, California.
*Performs at local cultural diversity festivals,stage shows, and private parties. *Two-trophy winner Belly Dancer of the Universe Competition.
*Performed for U.S. Senator Howard Metzenbaum (D Ohio)
*Danced in Seminyak, Bali and Istanbul, Turkey.
*Skilled finger cymbals, veils, canes, balance dances--swords, baskets & candelabra.
*Has created 35+ choreographies alone and with her troupe.
*Principal: JJ & the Habibis Laguna Beach Belly Dancers!

Also:

*Will teach your group at your location (birthday / bachelorette parties, showers) .
* Lecture/Demos: - History, props, belly dance as exercise, and social kickstarter.
* Schedule your seminar / workshop!
* Universal Life Church Minister offers belly dance (or other) theme weddings!
Self-Ceremony, Universal Life Church Ceremony, Jail House Ceremony or Belly Dance Ceremony: Egyptian Zeffa Procession, costumed belly dancers for shower / reception / hostess duties, catered Middle Eastern food,
including custom Persian Love Cake with live flowers. Live music available.
*All costs negotiable, reasonable, depending on location and complexity.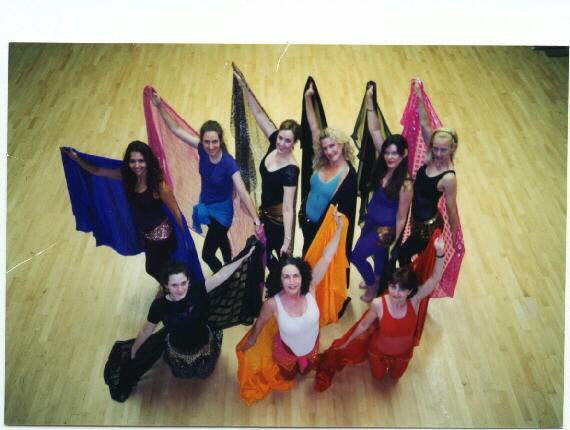 CLASS DATES:

I. LAGUNA BEACH
Susi Q Community Center, 380 Third Street, Laguna Beach 92651 - Free Parking!
Register online: www.lagunabeachcity.net/rec dept. Create account, register.
$12/wk for series; one-time class drop-in $15.00.
Upcoming Recitals: November 2, Laguna Woods,
December 20, Laguna Beach - Free!

Tuesdays: July 11 - Aug 22 & Sept 5 - Oct 24 (7 wks ea.)
*** Beginning Class: 6:30-7:30 p.m. - Basic movements, cymbals, veil, Egyptian cane, costumes, choreography & random field trip (TBA).
*** Intermediate Class: 7:30 - 9:00 p.m. (Instructor Permission Req.) - The 8's, 17 shimmies, swords, circular veil, combinations, solo improv exercises. ect. Plus group repertoire & rehearsal for potential performances with JJ & the Habibis Laguna Beach Belly Dancers. (May go to 9:30 prior to show dates). Check for early bird special registration price - www.lagunabeachcity.net/recreation.
Drop in anytime!

Thursdays: July 12 - Aug 31 & Sept 7 - Oct 26
***Shuvani Dance - Beginning Belly Dance in the A.M.
10:30-11:30 a.m. - One-hour introductory class for the wise woman: basic moves, finger cymbals, veil dance, cane dance, costumes, choreography and random field trip (tba). - Sign up at lagunabeachcity.net/recreation.
- Seniors 55+: Half Price (Drop-in $8)!
Drop in anytime!

II. LAGUNA WOODS (RESIDENTS ONLY)
Clubhouse #3 (Rehearsal Room), 23811 Ave Sevilla, Laguna Woods
Wednesdays: July 12 - Aug 22 & Sept TBA
***Introduction to Belly Dancing
Fundamental Movements, Props, Choreography, Field Trip, Etc. Purchase punch card at Laguna Woods Rec. Dept.). First class free!

* * *
Students learn a new choreography every series, perform in a periodic
recital, and attend a random field trip (tba) to watch a performance.
* * *
III. LAGUNA BEACH
July 17 - Aug 28 & Sept 11 - Oct 30 (7 wks ea.)
6:45 - 7:45 p.m. Namaste Introductory Level Yoga Classes
Breathe, stretch, balance, invert, experience total relaxation - easy postures for any body. Classes $12 each for series; one-time drop in fee $15. Seniors 60+ half price. Drop in anytime, register online at front desk.
Ask about lunch hour, workplace yoga classes at your office...


J.J. & the Habibis
Laguna Beach Belly Dancers
Performances

"Shimmy from the Heart!"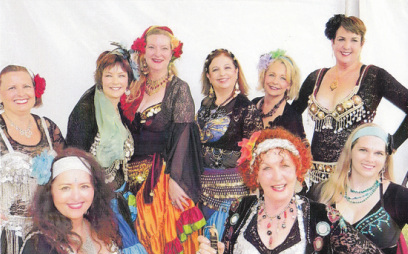 Sun, 7/16 - SAMEDA FAIRE, San Diego, we dance at 12:45.

Sun, 7/23 - SAWDUST FESTIVAL, 935 Laguna Cyn Rd., Laguna Beach - Two Shows 6:30 7 &;30 p.m. & Parade at 8:00.

Sun, 7/30 - ORANGE COUNTY FAIR, Fair Drive, Costa Mesa Ca - We dance at 2:15 on Heritage Stage.

Sun, 8/20 - SAWDUST FESTIVAL, 935 Laguna Cyn Rd., Laguna Beach - Two Shows 6:30 7 &;30 p.m. & Parade at 8:00.

Sun 9/10 - AMERICAN BELLY DANCE FUSION SHOWCASE, Bruce's Steakhouse, 12623 E. Imperial Highway, Santa Fe Springs CA 5:00-7:00 showcase - Plenty of parking, no cover. JJ solo, troupe show + 18-20 other belly dancers.

Sat, 9/23 - IRVINE GLOBAL VILLAGE FESTIVAL, Civic Center, Irvine, CA - We dance, time TBA.

Sun 10/8 - AMERICAN BELLY DANCE FUSION SHOWCASE, Bruce's Steakhouse, 12623 E. Imperial Highway, Santa Fe Springs CA 5:00-7:00 showcase - Plenty of parking, no cover. JJ solo, troupe show + 18-20 other belly dancers.

Sun, 10/15 - BEDOUIN BAZAAR, Al Bahr Shrine, San Diego - We dance TBA.

With many more to come!! Stay tuned!!

Jheri St. James - (949) 494-5031
jheristjames@yahoo.com, jherico@cox.net, JheriCo.net

---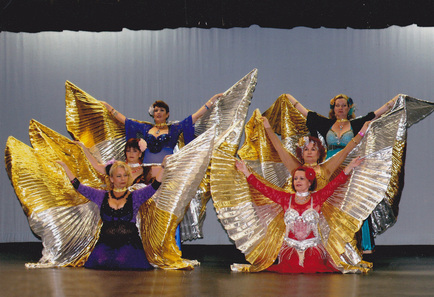 CURRICULUM VITAE

JHERI ST. JAMES
LA DANSE ORIENTALE: Belly Dancing Vitae

COOL AUDITION:
NBC's "America's Got Talent" – 120th out of 6,000 auditioners; we rejected them!

FESTIVALS:
Fete de la Musique, Laguna Beach - 2011-2017
SAMEDA Faire, San Diego - 2008-2015
Orange County Fair - 2011-2017
SOKA University International Festival - 2001 - 2017 - Award Winner
Irvine Global Village Festival - 2006 - 2017
Sawdust Art Festival, Laguna Beach - Bellydance Program Director 1982-2016
Badass Festival, Santa Maria - 2012-13
Laguna Beach Chamber of Commerce Renaissance Faires – 2008-09
Festival of Arts, Laguna Beach – 2000-2005
MidEastern Culture/Dance Assn's "Cairos Carnivale & Caravan" - 1983-2013
Bedouin Bazaar, San Diego - 1986-2015
Verizon Wireless Amphitheatre, Gwen Stefani Show - 2000
Renaissance Pleasure Faires, Various Calif. Locales - 1992-2015

SPEAKING:
Orange County Speaker's Registry, Friends of the Library, Performing Arts Center Guilds, Lady Lions, American Pen Women, Rotary Club, Laguna Beach Library 2017

TROUPES:
J.J. & The HABIBIS Laguna Beach Belly Dancers", Principal - 1985 - Present
Tribe Roman Morga Renaissance Gypsies - 1994-Present
The Mirage Orientale Dancers - "A Mirage..."

TEACHING:
Laguna Beach Parks & Recreation Dept. – Yoga Intro and Belly Dancing --1986-Present
Laguna Woods Receation Dept. - Belly Dancing - 2012-Present
Capistrano Adult Education – 2004-2009
Girls Gym - Yoga & Belly Dancing – 1992-1999
Emerald Bay Kids Camp, Laguna Beach - 1994-2000
Santa Ana High School & Other Private Students/Classes

BOARD:
California Choreographers Dance Festival – 2001-2003

AWARDS:
Belly Dancer of the Universe Competition, Divine Category - People's Choice & Second Place - 2004
MECDA For Advancement of Mid Eastern Dance - 1999

STAGE SHOWS:
Main Street Restaurant World Dance Showcase - 2017
American Fusion Belly Dance Showcases, Santa Fe Springs, Whittier - 2012-2017
Shimmy Showcases - 2005-2017
Tustin Tiller Days with Angelika Nemeth, 2012
Rosalind Russell Nepal Fundraiser - 2010
Middle Eastern Peace Benefit, Chapman Univ. - 2007
Raqs L.A.Tsunami Relief Benefit - 2005
"Megastars of the Universe," San Pedro – 2004
An Evening of Experimental M.E.Dance, Santa Monica - 2001
"Dance on the Wild Side" Benefit, Brea CA - 1999
Irvine Spectrum Opening: 10-Dancer Production – Principal - 1998
"Lagunatics," Laguna Playhouse, Laguna Beach CA - 1995

RESTAURANTS:
The Aegean, Laguna Beach - 2009
Pelican Isle, Huntington Beach - 2008
Sheraton Hotel, San Pedro, 2007
Mama's Lebanese Bakery, Laguna Beach, 2002, 2003
Tosh's, Huntington Beach - 2003
Casablanca Bistro, Newport Beach – 2000-2002 (Weekly)
Athena's Restaurant, Laguna Niguel CA - 2001

GALLERIES:
Highways, Santa Monica - 2001
Laguna Beach Art Museum - 2000, 2002
Khyber Pass Gallery, Laguna Beach CA - 2000
Treasures of the Nile Gallery, Laguna Beach CA – 1985-2000

BENEFITS:
BC Space Gallery, Laguna Beach, - 2003-2015
CAP Fundraiser, 2002
CHOCS Fundraiser, Laguna Beach, May 2002
American Cancer Society, Laguna Beach Chamber of Commerce, SchoolPower, Laguna Canyon Conservancy, Jewish Community Center

SENIOR EVENTS:
Feedback Foundation Picnics & Events, Anaheim CA (Many)
TLC Luncheon Club Events, Laguna Beach CA (Many)
Oasis Senior Center Events, Corona Del Mar CA (New Year's Eve at 4:00, London Time)
**Performed in all clubhouses at Leisure World (Laguna Woods).

REPERTOIRE:
Egyptian Cabaret/Folkloric, Turkish Cabaret/Rom, Fusion, Gypsy, Renaissance, American Belly Dance:
Props: Cymbals, Veils, Basket, Sword(s), Masks, Umbrella, Candelabra (Shamadan), Hookah Pipe

REFERENCES:
Angelika Nemeth, OCC Faculty, Costa Mesa CA
Kim Laudermilk, Principal, Tribe Roman Morga Gypsies

ASSOCIATIONS:
Member MECDA - Middle Eastern Culture/Dance Assn.
Member SAMEDA - San Diego Mid East Dance Assn.
Member CID, UNESCO International Dance Assn. (temporary hiatus)